It seems like most Mom Blogs lean either to the bright-and-sunny-everything-is-awesome side or, in an effort to be "real," take a darkly humorous look at the foibles of momming and the pitfalls of running our homeschools. I look for blogs with balance to follow. I try to be a blog with balance. And I'm here to say, sometimes homeschooling is *hard.* Sometimes, it's super hard and you just want to throw in the towel. Now, there comes a time, when that is exactly what has to happen. But more often than not, it isn't what you want, it isn't what the kids want, and it isn't what God wants. So, what do you do when you are struggling to stay afloat? Reassess your situation.
I am always thinking about doing just that. I know I need some direction and support, I just am not exactly sure what to do. I'm the kind of girl who needs a "how." I have so many times said, "Yes, but how?" to so many people on so many topics. I really benefit from that guidance. And that's where
Homeschool Rescue
comes in. Seems like I have been following
Only Passionate Curiosity
for quite some time. Long before I was a Homeschool Crewbie. Heather has designed an amazing online tutorial that walks me step by step through everything I need to reassess, rewrite, and revitalize our homeschool. This course is an amazing homeschool parent resource.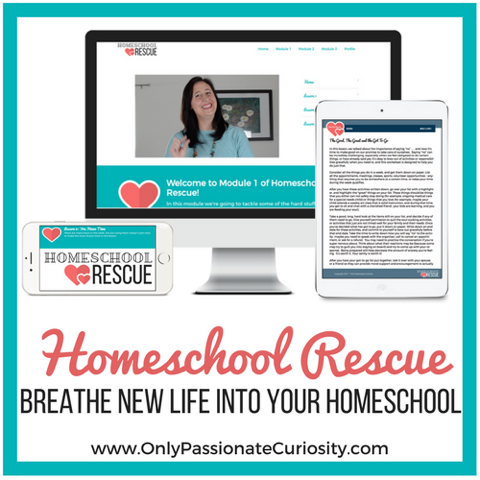 What exactly is Homeschool Rescue?
With Homeschool Rescue, you receive *lifetime* access to
all of Heather's modules (that's videos, worksheets, and resource lists). - One great feature (outside of all the actual content) is that you do not have to sit and watch each video. There are options to download the audio or the transcripts of each video's topics.
planners and an accountability pack for helping students learn to work independently.
a super exclusive Homeschool Rescue Facebook group. - I found the group to be very helpful. You have direct access to Heather as well as other homeschool moms who have completed the course or are working right alongside you. Everyone is moving along at their own pace, but the topics that come up can benefit any one of us.
a 60 day checklist and schedule. - But don't worry. It is a suggested schedule that will guide you through each step. You won't need to follow it exactly or stay at the same pace. Some modules just might be a breeze for you, while you'll want to spend a lot longer on others. Every homeschool is different and we all have different needs at any given time.
and you can even email Heather. - She is fantastic and is such a helpful soul.
The five modules are
Triage Your Homeschool
Time Management Systems and Organization
Curriculum Planning and Organization
Setting Students up for Success
Teaching Older Students
Each module consists of three, four, or five lessons. Some of the lessons will have you creating a mission statement for your homeschool, compiling a list of ten things your child must know before he graduates, and setting up a chore system. All very sensible assignments, with no fluff to waste your valuable time.
The big screen where everything happens: Heather's video, slides, etc.
Run time for the video (this won't include your homework).
A synopsis of the lesson.
A link to download your audio to play on portable devices.
A link to download the transcript to read on your screen or print and put in a binder.
Note pages show each slide of the video lesson and have lots of room for, well, notes.
This is where you find your homework and other resources Heather has put together for you. Somethings you'll find here are books for further study, sanity savers, practical helps, and charts.
I liked to sneak off to my bedroom with my laptop and watch the videos in peace. That worked great when Dad was home, otherwise I just watched them in my usual computery spot at the kitchen table after bedtime. I really preferred to watch the videos over the audio, though solo trips were nice to listen to the audio in the car.
Though the videos were my preferred method to use Homeschool Rescue, I like being able to print the transcripts of each lesson and keep them in a binder with my "homework" and the schedule. It makes me feel organized and that I actually accomplished something.
I found a couple of things very helpful as I'm moving through the modules. They aren't easy, but you'll get way more out of the program if you follow this advice.
Be completely honest with yourself. This might make you a bit squirmy, but you can't move forward if you aren't. No one is looking over your shoulder. No one is grading you. No one is going to knock on your door and demand an accounting. Just face the facts.
And then, please don't beat yourself up. Give yourself grace and do what you can to make the necessary changes. Don't look back. You can't change the past, but you can change course, and head for calmer seas and sunnier skies.
I remember in Module 1 Lesson 1, I may have been projecting a bit while playing the video. In the segment on dealing with burnout, Heather said, "Take your kids to the library on a Monday..." and I thought, "... and pick them up on Friday." Ha ha ha ha. Hmmm....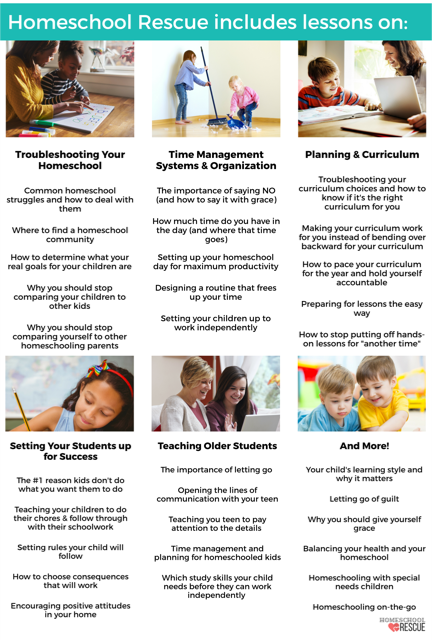 Now, instead of dreaming about that big yellow bus (the Freedom Bus, as my husband calls it), I'm working hard on shaping our homeschool the way we want it to be. I can see myself using Homeschool Rescue as a homeschool check up each spring. Now is the time that we are worn out and so over school. We have a bit of spring fever. Paperwork has been submitted to the state. We school year round, because we work best with a schedule, but we feel kind of done. Homeschool Rescue is helping us work through all those issues and will be a wonderful guide to refresh our school each year.
My favorite Todd Wilson comic, because THIS Jodi can relate to THAT Jodi.
If you take the summer off from lessons, this is a perfect time to work through Heather's lessons. And if you don't take off the summer, you can still take this course, it just may take you a bit longer to complete it.
Since Heather is offering a "live class," a few times a year, the course is available to purchase now through the end of May. It will then go live for June and July. You will want to take this course now, even if you feel like you've got this covered. There are off days, off seasons, and off attitudes and you will never know *when they will strike*. By working through this program now, you will have a plan in place for most of the things we get derailed or burnt out by.
This workshop is great for new homeschoolers who want to develop "the plan" now. And it's also perfect for moms who've been pulling this gig for a number of years and either just need to freshen up a bit, or need a complete overhaul. Homeschool dads who join will not feel out of place, the gang is there on Facebook to help every parent.
Heather is offering a
FREE WORKSHOP
on Wednesday, May 17 or Thursday, May18. Just go sign up and choose your date.
So, to sum up my thoughts on Homeschool Rescue.
This online course walks you step by step through planning and organizing your homeschool, including making plans for days when you. just. can't. There are videos, planners, lessons to help you prioritize and focus on what you want from homeschooling for your family. When you sign up, you get lifetime access. I think that setting the whole plan up is kind of time consuming, but it's better than spending the time putting out the same fires over and over all year long. Once you complete it, it would be easy to go in and tweak it each year as the kids grow and your family's needs shift.
Find Only Passionate Curiosity on social media.
Facebook
Twitter
Pinterest
Instagram
Goggle+