UnLock Math
is a family business, founded by Matthew and Alesia Blackwood. We received a one year subscription to
UnLock Pre-Algebra
for one child to review. Before I really knew anything about UnLock Math, I researched their products and I had a short chat one evening with Matthew. I didn't expect to hear from him until the next day, since it was so late in the evening, but he got right back to me and we briefly chatted about UnLock Pre-Algebra and the newest Geometry course. Matthew was super helpful and I really appreciated that he took the time to connect at that time of night.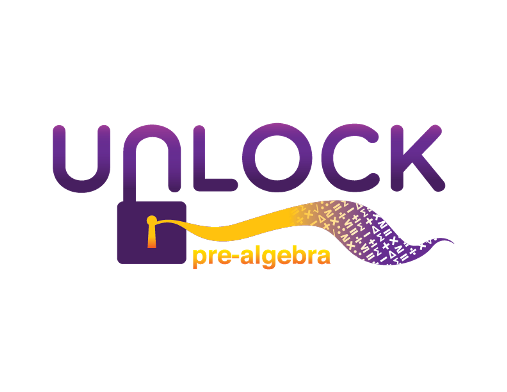 I ended up deciding to start UnLock Pre-Algebra with Mal. It seemed pretty straight forward and I thought he could do the work. Unfortunately, he got stuck on the first unit and struggled so much. I wasn't sure if I should let him move ahead whether he got whole and natural numbers or not, or keep going over it, or start having Xav work through the course. I wish now, I had asked Matthew his opinion. Instead, I put Xav on the course. It went a bit better with him and he was able to complete some of the work, but in order to give you more information about the course than I was able to at that point, I decided to start working through some of the course myself.
Each lesson consists of the following:
Warm Up - 5 questions that cover the previous lesson.
Video Lesson - Alesia teaches and demonstrates the lesson in an easy to understand video.
Practice - Ten problems using the information just learned in the video. If they miss any, they can see the how and why afterward. This section offers unlimited practice, as often as needed, with new questions each time. Only the best grade is recorded.
Stay Sharp - These are all review questions of the topics previously covered. This section can also be completed as many times as needed.
Challenge Question - A single question. It doesn't count toward their grade if they miss it. It does award bonus points, though.
Click the image to see a challenge question.
After several of these segments, there is a five question quiz, then a test at the end of the unit, plus a mid-term and Final exam.
The Student Dashboard is where you find the Welcome Letter, Progress Report, Gradebook, access the formula sheets, schedule, and reference notes, as well as enter into the lessons the student is taking. The reference notes can be printed to make a handy pre-algebra notebook.
Lessons
The list of each bite size chunk of a lesson, is super easy to navigate. Just click on the desired unit and "launch" it with the rocket icon.
From here, you select the day's lesson, which takes you to the page with the individual components of a complete lesson. I like the dotted path that guides students through each component of the lesson. It's a great visual. I would have liked to see a marker of some sort that showed which sections have been completed, or at least attempted. Otherwise, my punk would just start all over again each day. If you or your child are able to keep track of which component they need to start with, the program *does* keep track of the amount of completion within that. So, if they have started a session and need to quit, the program saves progress to the last time they clicked "next."
Grading
Your Student Gradebook is from Maple T.A., a testing and assessment software. Maple T.A. provides automated grading throughout the course. Here, you can see each assignment the student has worked on, the status of the assignment (a yellow arrow in a circle or a green check mark in a circle), details (which is where you can see the same details from the main guidebook, as well as the process or concepts used to answer each question and compare that to what the student did), score and total (how many right out of the total possible), the start and end time with duration. Very thorough and handy.
I do find the whole system for the grading to be very confusing. Because, this doesn't equal 57%, it's 44%.
But in the Student Welcome Letter, I see this list of weighted grading. Now, it kind of makes sense and perhaps those percentages equal 57% when calculated in this manner, but I am not a algebraic thinker, so in *my* reality, I'm just more confused.
In summary, while the grading is confusing, I would recommend UnLock Math to parents of older students. The customer service is very helpful, the videos are appealing and don't talk down to students, and that unlimited practice can be a huge benefit.
UnLock Math offers homeschool math curriculum for middle school and high school. Be sure to check out the rest of the Crew's reviews of
UnLock Pre-Algebra
,
UnLock Algebra1
,
UnLock Algebra2
, and
UnLock Geometry
which is the newest course they are offering.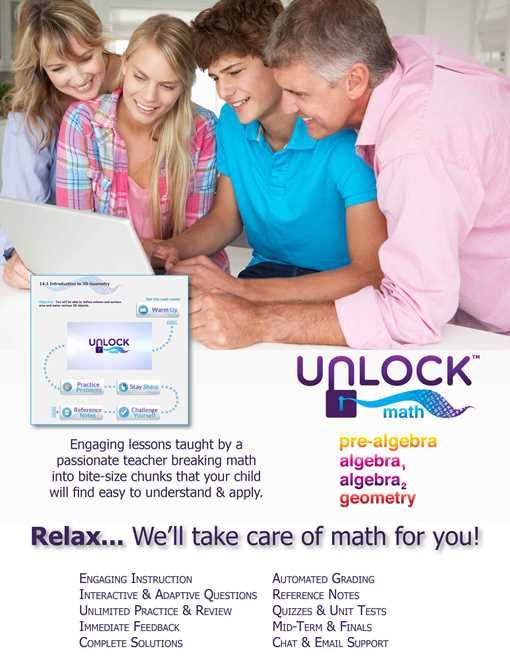 Find UnLock Math on social media.