I am so pleased to tell you about
First Form Latin Complete Set
for grades 4-9.
First Form Latin: Latin Grammar, Year One
is written by Cheryl Lowe, founder of
Memoria Press
. The video features former Highlands Latin School teacher Glen Moore. (Highlands Latin School is a private classical Christian school in Kentucky, which was started by Memoria Press and uses their Classical Core Curriculum.) Latin can be taught by an individual with zero Latin experience. Why learn Latin? Well, Latin is the basis of more than half of all English words. Learning Latin just might also help you to learn the romance languages of French, Italain, Portuguese, Romanian, and Spanish which are all based on vulgar Latin (the Latin of the people).
Memoria Press
offers
Latin Curriculum
from Early Elementary through High School beginning with
Prima Latina
for grades 1-4.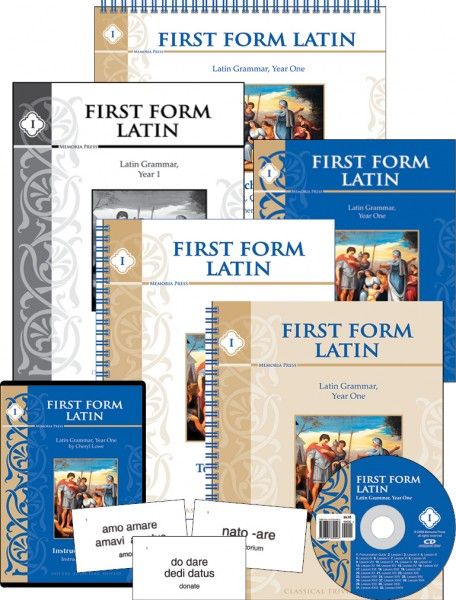 ~ ~ ~
I took this from the website, because it's a little too "grammarian" for me. I'm not sure I could put it into simple language and convey the actual meaning to you.
"After finishing First Form, the student will have mastered:


The six indicative active tenses of the first two verb conjugations
Five noun declensions
First and second declension adjectives
185 vocabulary words"
~ ~ ~
First Form is made up of five units and a total of 34 lessons. After looking the program over and working on the first couple of units, I think the grade range of 4th-9th finishing at ninth is really more about having the years in high school to complete the full Latin curriculum, than it is about ability or interest level. There is no reason a 10-12th grader or continuing adult student cannot complete this course.
The complete set includes
Student Workbook
Student Text
Teacher Manual
Quizzes & Tests booklet
Teacher Key
Pronunciation CD
Flash Cards
3 DVDs
You can use the course with multiple children, but each student will need their own student books.
The
Student Workbook
is softcover, spiral bound, and 190 pages. Lessons are broken into manageable sections which are spread out over the course of a week.
The
Student Text
is a smaller book, also softcover, but perfect bound. The text is 121 pages. This book basically follows along with the information covered in the video lessons.
In the
Teacher Manual
(also 121 page softcover book), are -obviously- the teacher preparation pages. There's an overview of the whole program and how to teach it, including if you intend to add the optional
Lingua Angelica
to your Latin program. Prep work for each lesson is listed. A miniaturized page (still highly readable) from the Student Text, is shown with the coinciding lesson plan. Prayers with their translations, conversations, and "basic" grammar are included in the appendices. Oral Drills and Vocabulary sections follow that.
The binding in the
Quizzes & Tests
booklet is stapled. Quizzes and tests are between 1-5 pages each. The final exam at the end of this booklet is seven pages long, covering all of the lessons for the entire year. Pages are perforated for easy removal of the tests.
A spiral bound
Teacher Key
holds all of the answers for the Student Workbook and Quizzes & Tests booklet. Each page show two pages side by side. A blue tab at the bottom of the page indicates what lesson or quiz it is associated with.
Included, is a handy
pronunciation guide on CD
. Each lesson is on a separate track. This is the ecclesiastical pronunciation. A classical pronunciation CD is available separately if you prefer that.
Flash cards
. Flash cards up the wazoo! Hee hee. Once again, I had an excuse to purchase more bins for organizing!
Excellent advice.
The video lessons are on three
DVD
s which total 9 hours of instruction, approximately 15-20 minutes per lesson.
This course is currently being attempted only by myself. Even though my middles are 4th/5th-ish grade, I'm quite certain they aren't ready for it. Classical Christian education is sort of a pipe dream for me. I'm not sure that it's for us, but the more I learn about it, the more I love it. Something tells me I would have done pretty well with it, but I was the goofy teacher's pet who helped her clean out her classroom at the end of the year and was gifted with huge stacks of worksheets left over from our lessons. And I actually *did* them over the summer. For fun. Imagine children the exact opposite of that. Those are my punks.
So far, in the few weeks I've had the course, I've watched the Introduction and the first three lessons. I take notes as "Mr. Moore" (it seems odd to call someone younger than I am, Mister, but he *is* the instructor, so...) speaks. I've found the Student Text as good a place as any to write the notes so they are all right there with the related lesson. It actually took me that long to be able to attempt the recitation at the beginning of each lesson. The videos go so fast, there is barely a pause for my old brain to think, let alone form a response. I've worked on the workbook pages for the first two lessons as well.
Everything that happens is spelled out for me in the Teacher Manual. It's a little odd being the teacher and the student. "No peeking!" I think for some of the oral sections, I can have one of the boys read the English aloud while I translate to Latin. It's fun to see how many Latin words I sort of "know" just because the English is based on it.
I was talking to another Homeschool Review Crew mama who assures me Prima Latina is equally as excellent as First Form. I'm thinking I need to start my punks on it or Latina Christiana. While I'm musing and debating about that, I wanted to also share Memoria Press' Special Needs curriculum. It's called
Simply Classical
. I'm mentioning it because, in all the times I've looked over their website, it has never really stuck out in my mind, but I think it's a fantastic looking resource.
A friend of mine has an aspiring veterinarian who needs some Latin in high school. I am definitely recommending this course to her!
Memoria Press has a
forum
that has fairly heavy traffic compared to many other curriculum provider's forums. I was pleasantly surprised to see that it is really a whole community.
The rest of the Homeschool Review Crew has been using First Form Latin and the other
Latin curricula
Memoria Press offers, as well as
The Book of Trees
and
Nature's Beautiful Order
. Click the Crew banner below to read about these other courses.
Find Memoria Press on social media.