Apologia Educational Ministries
helps parents teach their children, using a Christian lens with classes in Bible, sciences, apologetics, and worldview. We're familiar with several of the elementary science courses and have really enjoyed using them. The What We Believe series has been on my short list for quite a while. I am always excited to see the name Apologia Educational Ministries show up on the Crew vendor list.
This time we're taking a look at a language arts course,
Readers in Residence Volume 1 (Sleuth).
This is a newer homeschool reading curriculum from Apologia. Where do you go after your child learns to read? Once a child learns to read, he then uses reading to learn. RIR is a companion curriculum to Writers in Residence. Both of these curricula are written by Debra Bell.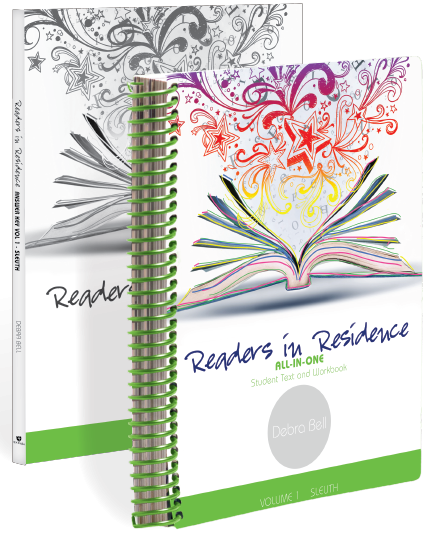 Debra Bell
is a public speaker, author, and former high school and college English teacher and homeschooler. I'm going to be ordering one of her famous homeschool planners this summer.
I received the Readers in Residence Volume 1 set which includes
The All in One Student Text & Workbook which is 562 spiral bound pages.
The Answer Key which is a 232 page softcover book
The books are sold separately or as a set at a discount.
Each of the six units are divided into modules. The units cover things like
Character development
Book genres
Reading strategies
Using Venn diagrams to compare and contrast
Vocabulary activities
Personification
Setting
Resolution, and just tons more.
In the back of the Student Text & Workbook you'll find a dictionary, Reader's Toolbox Strategies, a glossary, and Appendix with
Sleuth's Log
Character Map
Comic Strip and Storyboard Templates
Rubrics for units 1, 3, and 5
Book Club Flier with room to write the details, copy, and hand out.
Index
About the Author page
Notes
Three assigned books are needed for the course.
Sarah, Plain and Tall by Patricia MacLachlan.
Charlotte's Web by E. B. White.
Because of Winn Dixie by Kate DiCamillo.
Three books of the child's choosing, within the parameters set in the book (suggestions are provided for each type).
The units based on a specific book each take approximately 8-9 weeks. The units in which the students select their own books each take about 3 weeks to complete. The included suggested schedule is for 4 days of work in each of 32 weeks. A specific version of each of the assigned books is recommended, only so referenced page numbers will match up. None of these books are so large, though, that you shouldn't be able to figure out what point in the book is being referred to if you have a different copy.
The suggested books for the On Your Own units cover several grades (3rd to 7/8th) to make it easier to select age appropriate books for older, struggling readers. While the assigned books might seem "young" for older children, the whole point of the On Your Own section is to learn to carry over the skills from Units 1, 3, and 5 into any book they would choose to read later.
You'll find information about organizing five book club meetings. A kickoff, a meeting after each of the three assigned books, and a grand finale. This is a fun way for the students to get together with other people reading the same books and studying the same information. It's a great idea for a co-op or get together with other Readers in Residence students. As an alternative, you could start an online book club with friends near and far. Some of the Crew started a Facebook group to share what our children were doing in RIR.
My first impression when I received the books - Ah Maze Ing. Xav's first impression - intimidating. That feeling stuck with him the whole time, unfortunately. We really struggled to keep him on schedule. Even reducing the amount of work each day, we were only able to get him through about three weeks of work in the five weeks we have had it.
We talked about book genres and who his favorite authors are.
Xavier has just discovered his dad's old Gordon Korman books. He also likes JK Rowling, anything that makes him laugh (he especially likes Calvin and Hobbes and Garfield comics), and the Adventures in Odyssey Imagination Stations books.
He and Merrick (because Merrick has to do whatever the bigger littles are doing) designed their own book covers. Xav's book has won some award he created, so he drew a medallion on his cover. I had to laugh when he asked if he could really publish his book. I said he'd have to actually write a story first! Though that's not the point of *Readers* in Residence. :)
While Xav is certainly capable of reading the books used in this program, he was daunted by the size of the textbook and the amount of reading in the student book (on top of the books studied) that was required to keep him current in it.
This is the first time I have ever had a problem with one of my punks not loving something from Apologia as much as, or more than, I did. I so wish I could tell you how very much we loved it. It's a stellar homeschool reading curriculum with solid teaching. I was amazed with how much is covered. It is just a bit much for Xavier this year. At this point, I plan to put it away until the fall of 2018. That gives him a year and a half to develop the skills needed and the confidence in that deeper understanding to discuss and decipher what he reads. Xavier is at the low end of the grade range, which is really pretty wide developmentally.
While *I* did look over the huge sample on the
landing page
(nearly 100 pages - larger than the sample on the product page) and I liked what I saw, I realize now it may have been best to work on it a bit with Xavier before I received Readers in Residence for review. So, that is my recommendation to you. If your child is a bit on the younger side or is struggling, work through the sample as best you can. The entire first three modules of Unit 1 are there. If you don't feel like your children are quite ready, put it off for a year.
Find Apologia on social media.
Facebook
Instagram
Twitter
Pinterest