Channie's Visual Handwriting & Math Workbooks
had actually been on my radar for a long time when this review with the Crew came up. I've been watching them since I first saw them on educents and now that I've tried the
Quick & Neat Alphabet Pad
, I will be much more likely to pick up the other pads I was considering purchasing.
When
Chan Bohacheff
's son struggled for several years to learn to form letters correctly, she began to develop the grid used in her handwriting products. Alex showed marked improvement in just a few months and soon, her son's teachers were asking about her technique for their other students. Since then, Channie has created many different pads for handwriting and math for the elementary grades.
The Quick & Neat Alphabet Pad (PreK-1st) has 40 double-sided sheets of 11"x8.5" paper. With a paper board back, the pad could be used as it's own flat surface for writing. There are five rows of 1-1/8" writing guides. The pages are of a bit heavier weight and are smooth and easy to write on with pencil or pen. This is important, as there are some notepads we've used that weren't pencil friendly. That just makes my job and theirs more difficult. These sheets from Channie's were just fine. The heavy paper held up against all the erasing Merrick had to do one day when, instead of writing, he chose to scribble his row of letters.
Merrick's Before and After Channnie's.
The self-correcting, visual handwriting guide is easy to understand and even Merrick caught on quickly to the spacing, sizing, and how-to of writing his letters. There are three vertically stacked boxes, color coded to show placement of not just letters, but numbers, too. Red arrows guide your writer through each line and curve of every letter. The unique format of Channie's
Quick & Neat Alphabet Pad
even shows correct spacing between letters and between words.
I taught my bigger punks cursive so they would stop throwing capital letters all throughout everything they write, but I still want them to be able to print neatly. When we started using the pad, I had each punk write a sheet of the alphabet as a baseline. I was pleasantly surprised to see that Mal can do an amazing job with these handwriting guides. Although, the first time he completed the assignment for me, I realized he still often pushes the pencil away from himself rather than draw it toward himself. Once I had the baseline sheets, I talked them through the use of the sheets and how to follow the instruction shown by the red arrows.
You can see that Mal and Xav can write decently in the grid, but their names on the line aren't as well written.
That's when the real practice began. Merrick would write one row on a sheet each day we used Channie's. He practiced the same letters for a week. For instance, for a week, he wrote a row of A-F, over and over. Then he would write G-L to fill a page, and so on. He has really improved so much. I'm proud of the effort he is putting into having neater writing and he is proud of the progress he is making.
I was really wishing they had a smaller size writing guide for older kids. The bigger punks still need a bit of help with spacing and sizing. Then I realized Channie's has a Quick & Neat Writing Pad for 1st-3rd grade. That pad has seven rows of 3/4" practice space per side. There is also a notebook for even older students. The Crew didn't review either of those, but after using the Quick & Neat Alphabet pad, I really think the writing pad or youth notebook would be perfect. Smaller boxes would be a *huge* help for guiding my bigger littles to write in a more age appropriate size.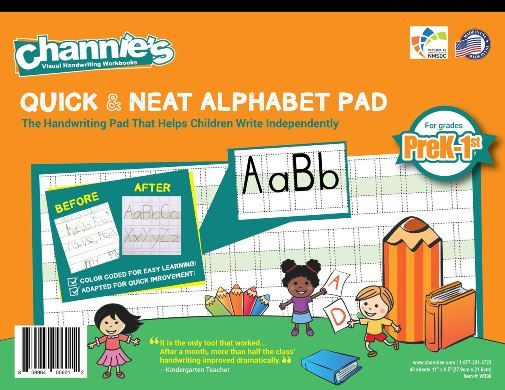 Other Crew mates reviewed
Quick & Neat Alphabet Pad
and a few other Channie's products.
Click on the banner below to read about other products.
Find Channie's on
Facebook.