We love the
Heirloom Audio Productions
audio theater here. I have all but two. For now. This time, we were whisked away to France during the French Revolution.
In the Reign of Terror
actually begins in America, with Mr. George in Arlington Cemetary. As usual, our boisterous story teller has found a willing listener to one of his many amazing tales. Young American Harry is about to be treated to the telling of young British Harry and his time abroad. We head to France along with Harry as he is sent to spend some time with a Marquee and his family.
Harry knows there is a troubling time ahead, as Paris is in turmoil, but his father is confidant that things will soon settle down. Through several harrowing minor adventures, Harry earns a place in the hearts of the Marquee's family members. But the real adventure hasn't even yet begun.
As I researched this G.A. Henty title, I was a little concerned about the amount of death that would be taking place in this story. My middle little punk is so tenderhearted and the French Revolution was a very dark time. The death is terrible and even some major characters lose their lives, but through it all, they are more likely a second hand mention, and we are not privy to the actual acts. That isn't to say there are no disturbing passages. No one skirts around the horrible ways many of the deaths happen, it just isn't highlighted. It is just mentioned in as sensitive a manner as possible. We've listened to In the Reign of Terror several times in the past few weeks. I've had to answer some questions with sad answers. Unfortunately, 1790s France isn't the only time in history with sad answers.
One thing I really liked was the juxtaposition of the French Revolution and America's Revolution (or War of Independence). Henty repeatedly contrasts the two events. While they took place closely together in time, the differences were startling. God was generally foremost in the hearts and thoughts of the colonists, while Europe was experiencing the Age of Enlightenment, in which man did not need a god to attain perfection. While researching more about the Enlightenment period, I saw the two revolutions lumped together, rather than different. I liked hearing and reading Henty's opinions on the relationships and differences. One thing I think was most important is that *in general* the American war was fought as soldiers against soldiers, while the French war was largely a people (the common people) pitted against a people (the wealthy nobility and the clergy). Age, guilty involvement, treatment of the poor in general were not taken into consideration.
Admittedly, most of my knowledge of the French Revolution and Reign of Terror actually comes from viewing The Scarlet Pimpernel (1982). Let's just say, funny as it is, it may have left some gaps in my knowledge. While I still don't know everything about this period, Henty and Heirloom Audio Productions has helped me round out that knowledge.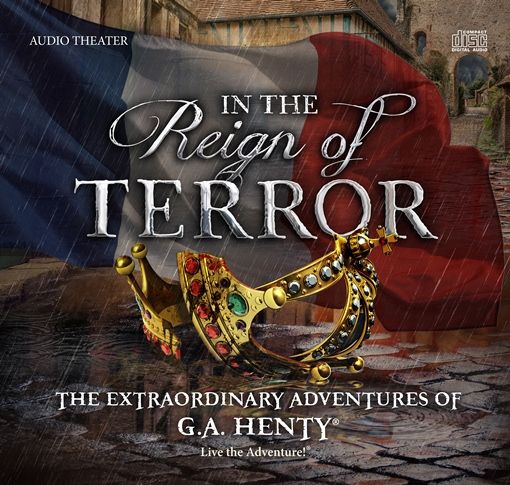 As always, the actors are stellar, the screen play is phoenomenal, and the sound track and audio effects stir something in our very hearts. Brian Blessed, as G.A. Henty (Mr. George) is so memorable and imposing. I confess, his story telling is one of my favorite parts of every one of Heirloom Audio's productions. When I read Heirloom Audio's Facebook updates, I read them in his booming voice. They might (or might not) have a tiny little 20 year old woman on their social media, but she sure sounds like Brian Blessed to me!
Some things about
Heirloom Audio Productions
have changed since I last wrote a review for them. The helpful study guide is no longer included as a download bonus when you purchase the CDs or MP3s. Those are now part of the Live the Adventure Club. The club is a subscription to the online service and the bonuses are included in that. With club membership, you receive several bonuses which include the study guide, lots of unique resources, a forum, and soundtracks and ebooks for the Heirloom Audio adventures you own. Club membership also includes THREE physical CDs sent out yearly. YIPPEE! More for listening on those long car rides.
Anyway, about that study guide. My one problem with the guide is that the beautiful pages are not printer friendly. I will say this every time I review it until there is a black ink on white paper only option. The guide is broken down into questions for each track of the audio. Each set of questions is divided into three types: Listening Well – a sort of comprehension section, Thinking Farther – which requires the student to consider motives of the characters and use other critical thinking skills, and The Defining Words – or vocabulary. I really like the Thinking Further section, though it's the hardest part for my punks. It asks questions like "The Bible forbids rulers and judges from taking bribes (cites verses)... Do you think it is wrong to bribe an official in order to get real justice? Explain your answer."
One thing we like about the study guides, which really make a nice unit, is that there is generally a recipe in them. The study guide for
In the Reign of Terror
has a brioche recipe. I want to make it! But it's summer. I will probably have to take the toaster oven out on the porch so I can bake some bread soon. Otherwise, it's going to have to wait a month or two.
The guide also includes short biographies of G.A. Henty, Robespierre, and Marie Antoinette, and further information about the Age of Enlightenment and the French Revolution. Expand Your Learning segments and photographs are inset on several pages throughout it. Further study suggestions are listed, including the book the script writers were asked to read. Bible studies follow, with the topics "When God Means Evil for Good," "Resisting Tyranny," and "True Manliness."
Heirloom Audio Productions
' CDs are well loved in our homeschool. Check out the
Live the Adventure Club
and receive Captain Bayley's Heir. Get to know some of the Heirloom Audio folks and chat with other parents. You'll find unique resources and plenty of fun activities for your punks, too.
Find Heirloom Audio on social media.
Facebook
Twitter
Google+
Instagram: @HeirloomAudioOfficial