If you are looking for some really great curriculum for early elementary, check out
The Crafty Classroom
. Even if you don't *think* you are looking for curriculum for early elementary, you should check it out. :D I have been using the kindergarten
Learn to R.E.A.D. Curriculum Notebook
and
R.E.A.D. Review Pack
with Merrick the last few weeks.
I received two downloadable PDF files.
1.
Learn to R.E.A.D. Curriculum Notebook
is a 36 week kindergarten reading and language arts curriculum. This file is *huge,*
nearly 800
pages long. $25
2.
R.E.A.D. Review Pack
A 92 page file contains 28, easy-to-assemble, printable early readers. He learns new word families and sight words which coordinate perfectly with the R.E.A.D. Curriculum Notebook. It can also be used to supplement any reading program. $15
R.E.A.D. stands for Ready, Eager, Able, & Determined to read. It is written by Lacey Falco M.S.Ed and Valerie McClintick. Purchase enables a single family to print and use. Classroom and co-op licenses are available.
How we used
R.E.A.D. Curriculum Notebook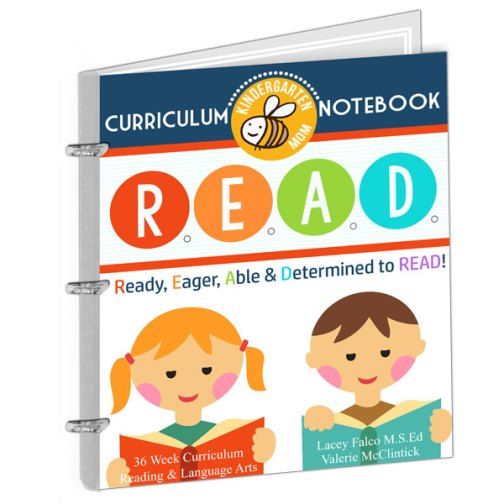 To set up this learn to read program, you will need a printer and paper, a notebook of some sort (3 ring, composition, manila folder, or something), scissors and coloring/writing utensils. I gave Merrick a one subject spiral bound notebook for his notebooking projects.
You begin the program with a few pre-assessment activities. These are quite easy to implement and are used to make sure the child knows the alphabet and the sounds each letter makes before trying to proceed. Thirty one sounds are shown.
While the PDF always opened right where I left off, I wish the pages were numbered in the document *and* labeled at the bottom with the lesson/week and there was a table of contents to make hopping back and forth from the instructional area to the work pages *much* easier.
The curriculum uses a 4 day per week schedule for 36 weeks. Each week, young readers learn one word family and several sight words. In the first four weeks, Merrick studied the am, at, ab, and ag families, nine sight words, and learned about nouns, verbs, pronouns, and adjectives. The fifth week is for review (using the R.E.A.D. Review Pack) and learning blends. Then the five week cycle starts over. Twice each week, there is a notebooking project. Merrick recently decided he is all about lapbooking and he is all over these notebooking lessons.
In week one, while learning about nouns, Merrick amused himself by declaring, "a noun is a person, place, or thingamabob" over and over. While he is notebooking away, I keep hearing, "Hey, Mom!" He loves working in his "blue notebook." Once, he told me the older gentleman with a cane in the People column of a noun activity looked like a man God had healed. Some of the illustrations do sort of resemble the characters in his favorite Bible videos, so maybe that's where he got it.
Anyway, the curriculum overview shows a list of everything covered each week. Then there is a daily schedule for the regular weeks and one for the weeks spent studying blends. Each shows what activities to do four days of the week. I printed this because there are so many pages each week, I had a hard time keeping track of everything.
Every day there is a calendar and warm-up activity. Merrick really likes this one. You can laminate these pages and use them over and over. I have put the sheet in a page protector. I want to keep the calendar side to add to his end of year portfolio. The page protector works well. I pull out the sheet for the calendar to be completed right on the paper, then put the page back in the sheet protector so the parts that change daily can be written with dry erase and wiped off each time. Either way works very well. I have a lot of fond memories of having morning time with the bigger punks. The flip side of the page is for practicing writing full names, completing a clock, marking the weather, and more. Some great math activities occur there.
Some of the daily activities include mazes, dot-to-dots, playdoh mats, sound it out pages, dot painting with a Q-tip, games, and a slew of other pages. Some involve coloring or cutting and gluing. There are so many options for every week, I have no doubt there will be some favored pages for just about every child.
How we used
R.E.A.D. Review Pack
For these beginning readers, you will need a printer and paper, scissors, stapler, and coloring utensils.
An instructional video shows easy printing and assembly of the booklets, but I did do them a bit differently. First of all, I printed them double sided. They are three pages long, which means the back of the second sheet I printed on was blank. That meant there were three pages in the middle of the booklets that were blank left hand pages. This didn't bother Merrick at all, but you might want to check with just one book to see if it bothers your child.
Secondly, the video shows how to stack the pages, cut, and assemble by starting at the top. I found it easier to stack the pages the same, but to begin cutting at the bottom and stacking each section as I cut. This way, they were already in the right order. This probably didn't save a ton of time per book, but I was decidedly more confident that I had every book in the right order and saved a bit of time when making books in bigger batches (several weeks at a time).
Merrick caught on very quickly to reading the stories and reviewing his sight words for that section. The first page of each booklet shows the word families being reviewed as well as a sight word section. These sections change every 5 weeks, correlating with the R.E.A.D. notebook work being done. The difficulty of the books progresses as the year goes on.
I swear, he thought
Slam Bam!
was one of the funniest stories he ever heard, and that exclamation point, just made it all the better. BECAUSE EXCLAMATION POINTS MEAN YELLING!
I wasn't sure how I would like this curriculum. I really prefer physical copies of books rather than downloads to print. Maybe I'm lazy about it. Or old fashioned. Not sure. But sometimes printing things is frustrating for me. Things don't line up right when front/back printing, everything has gobs of color and I have a black ink only printer, stuff like that. I did NOT have one single issue printing this curriculum. Very few pages are in color, and most of those that are have a black and white option for printing. I am so happy to be on this review. Merrick absolutely loves working in his "blue notebook." I couldn't have asked for a program that was a better fit for him.
What Merrick thought:
I like it. The funnest part is my blue notebook. I like coloring and cutting. I *don't* like the girl part. Only the boy part. I cut the girl out.
So, he *ahem* doesn't like a page that asked if he was a girl or a boy because it had a girl on one side of the page. Apparently, that's very offensive to a five year old boy.
After our experience with the R.E.A.D. Curriculum Notebook and R.E.A.D. Review Pack, I am really interested in The Crafty Classroom's 12 week
How to Write a Paragraph
, and the
Periodic Table of the Elements Activity Pack
.
Find The Crafty Classroom on social media.