Today, Xavier and I are writing to tell you about
Barbour Publishing
's new Imagine Series for the middle grades. We were given Imagine. . .The Great Flood for review. You can read an excerpt from
Imagine. . .The Great Flood by Matt Koceich
at the Barbour Publishing website if you'd like to get a feel for the story.
This 112 page paperback takes place at the time of the Flood of the Bible. This chapter book is fiction for ages 8-12. I found that to be an accurate range for readability and content, though there are a few short, intense sections for younger readers.
Normally, I would read a book like this aloud to all of my punks, but this is how it came down in our house this time. I read the excerpt ("read a chapter," which is linked on the
book page
), which is actually about 2.5 chapters. I let Xavier (age 10) read the download as well, to gauge his interest. The sample ends just as the book is getting exciting (clever), so he certainly did want to finish reading it. When the book arrived, he took off with it and finished it in about a day. He is turning into a voracious reader. Then I never saw it again until a week ago when I told him I also needed to finish reading it for this review! I then finished it up in an afternoon of several interruptions. All that to say, it is not a long or difficult read, but you may need to help a bit with some names and words.
The book begins in modern day Texas with Corey, his mom, and their dog Molly. Corey is unhappy about his family's impending move to Florida for his dad's employer. Corey's mom wisely tells him, "... sometimes things change, but God never changes." Shortly after their conversation, Corey falls in the woods and hits his head. He wakes up in Mesopotamia 2400BC. He is quickly joined by Noah's son Shem who immediately welcomes him into his family and the ark, then enlists his help guiding the animals to Noah.
Shem and Corey are attacked several times by the nephilim (giants) and later also by Elizar, some sort of sorcerer. They even face betrayal! When it begins to rain, all of the local people also want to enter the ark. Obviously, that isn't going to happen! Corey is drowning and the story allows us to think it is Noah pulling him out of the water, but in the end, he is waking up in the forest where he was first injured. We immediately are whisked to Florida three months later, with no further information.
Corey's adventures help him to see many parallels between his real life and what he was experiencing both during the adventure and after, in his new home in Florida. He learns to rely on God and he often prays in times of trouble, throughout the book. His reliance on God is definitely a main feature in the story.
I was left wondering what exactly was the point, though. Many questions were left unanswered. Here are a few:
Who did Corey see and hear in the woods when he blacked out? He sees a man near Molly and hears someone say, "Open his eyes," and yet, the book takes us, not really back to the woods, but to a beach in Florida three months later.
Why did Elizar, the bad guy, want Shem's staff so badly? Shem mentions that as long as he holds the staff the animals will obey him, but that staff is broken. I'm assuming the replacement staff has the same quality, but by this point in the story, it is obvious to *everyone* that the world is going to be completely flooded, just as Noah said. (I'm *pretty* sure Noah and his family did not need a staff to control the animals.)
*Why* did this whole thing even happen? I get that the story is meant to show Corey relying on God even when it seemed it would do no good. Several times parallels are drawn between his modern situation and the Mesopotamian adventure. I didn't think it really exposed a solid reason for the events Corey experienced.
All in all, it was a decent "kid adventure." I had to reread the Biblical account due to the amount of embellishment, but any time you are sent to read the Bible isn't really a bad thing. I
n Genesis 7:11, we can read that "...all the fountains of the great deep broken up, and the windows of heaven were opened." So while the nephilim's fight with Noah's family is fictitious, the broken earth with water gushing from it seems to be factual. Elizar was made up, but he mentions his master, presumably Satan, and multiple gods which were certainly a terrible influence on people of that time.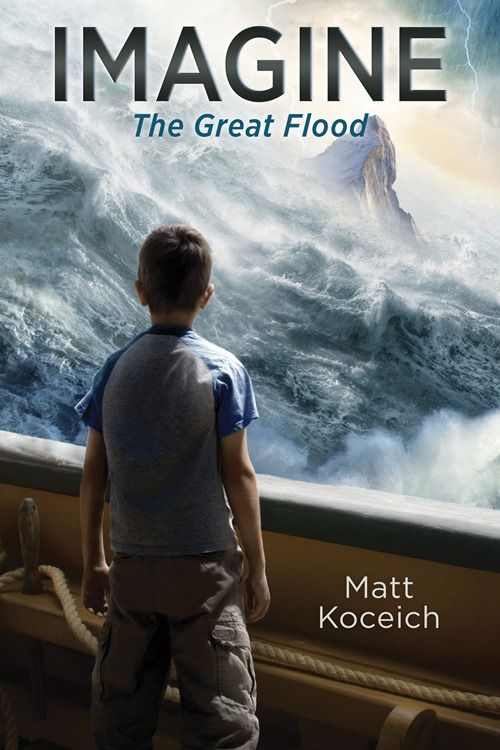 What did Xav think?
It was a good book. It was easy to read. It was about how hard it was for Noah's family to build the ark even though other people made fun of them and wanted to destroy it. I liked it when the giant got bit on the leg by the lions protecting Corey. It was exciting when Corey went down the rapid river. I think the giants died on the river bank when they tried to catch him. I think Corey got sent back to the flood time so he would think about moving and that other people sometimes have to move, too. But Noah's family relied on God.
I'm not exactly in agreement with all of his points, but I can understand where he picked them up.
About the Author
Matt Koceich is a public educator, living with his family in Texas.
Imagine. . .The Great Flood
is not as much Biblical fiction as fiction that just happens to be set at a Biblical event. And, yes, there is a fine line between the two. *smile* If that detail is "no big whoop" to you and you are looking for some clean, wholesome reading, there are more books planned for the Imagine Series. The second release in this Bible adventure series for kids,
Imagine...The Ten Plagues
, will be available in March 2018.
Find Barbour Publishing on social media.