There are some programs that work so well for one or more of the punks, I am more than happy to pay for a year, or two, of access.
Reading Eggs
is one of those. Some years back, once upon a time, I signed up for a
free trial of Reading Eggs
for the bigger littles. It was so incredibly loved by them and helpful for them, that I did purchase a subscription. I don't do that often, so that should tell you how much value I found in it.
Back then, I think it was just Reading Eggs that was available. MathSeeds was being introduced. I was sort of disappointed about MathSeeds, just because the punks tested out of that. I'm always hoping for a math miracle here, but the boys were beyond what was offered at that time. Now Reading Eggs is so much more, with three levels. We received a six months subscription to all levels of Reading Eggs, plus MathSeeds, for two punks.
Reading Eggs Junior
, for the 2-4 year old crowd, has sections for learning the alphabet, hearing stories, watching videos, and learning concepts like "opposites." I'm afraid I am not terribly familiar with this toddler section since Merrick is reading a bit.
Junior
Reading Eggs
is intended for children approximately 3-7. Reading Eggs teaches both phonics and sight word techniques. Each of these methods has a place in learning to read and spell. Merrick spent the last 4 weeks in Reading Eggs and is having a blast.
Eggspress dashboard stats
The last language arts section is
Reading Eggspress
. Eggspress is for ages 7-13 (approximately grades 1-6). I'm not sure when Reading Eggspress was added to the family, but I don't remember it being available when the bigger punks had Reading Eggs subscriptions previously. Mal and Xav enjoyed a trial subscription for two weeks, but when the review period started, I had to choose two boys to access. I thought Mal needed the program more, so he was selected by me to continue. Xavier was pretty disappointed, so I am debating adding him again myself. He's a good reader already, as is Mal, but Eggspress offers comprehension and spelling through grade six.
Eggspress Activity Sheets
Merrick has barely used the
MathSeeds
program, but seems to have enjoyed what he did do last week. I have a feeling he will want to continue using it for the rest of the subscription period. I see on Facebook that Map 36 is now complete, but I didn't see activity sheets for that one yet. Map 36 covers third grade topics like multiplication tables, equivalent fractions, and angles. MathSeeds has had much content added to it since we last accessed it.
Mathseeds dashboard stats
Easy to use tabs
So, just *how* do you get started with
Reading Eggs
anyway? After you open an account and add your child(ren), you'll see their little avatar tabs across the top of the Family Dashboard. Click the tab for the child you want to work with first. Below the child's tab, you see the program tabs. As the parent, you probably have a pretty good idea in which program to place your children, so select the appropriate reading program. Click the big, green START button, select "lessons" in the center of the page and you will be prompted to either take the placement test or to start at the beginning instead. I *highly* recommend using the placement test. Try to not be overly helpful while your child works, or they could be placed in a level that is too high and that could be frustrating for them.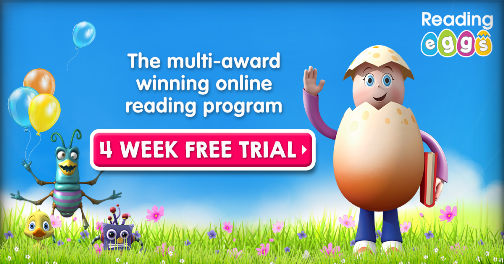 While the placement activities are super helpful, there's always a chance you might need to adjust the level. You can do this right at the Parent Dashboard. By selecting "edit details" on the same first tab covered screen (it's opposite the green START button), you can adjust each child's progress. I attempted to do that for the sake of this review, but the computer warned me that his progress would be lost. So, not even for you would I risk sabotaging the 722 golden eggs my boy is hoarding.
Merrick's homepage
Using pictures and words makes it very easy for Merrick to navigate from his own dashboard to the different games and his lessons. Children move through a map of 10 lessons that ends with a quiz. A subtle bit of blinking or movement, as well as their avatar, help direct them to click the current section of the map. Once in a while an "annoying brother" makes too much noise and Merrick misses a bit of instruction or a word he is supposed to select. There doesn't seem to be a way to repeat the directions. Other than that, he is finding Reading Eggs easy to use and he really enjoys it.
Eggspress Map 5
I have to say that I'm sometimes confused by some of the stats on the parent dashboard. For instance, Merrick has read several stories, but books read shows 0. I think it may be that he hasn't read any of the books in the
Reading Eggs
library. He has looked, but got a bit irritated with me because I directed him to books with a lower lexile reading level than he wanted, even though they were at his level.
Another level of Merrick's Reading Eggs access
I also receive emails detailing Merrick's progress in Reading Eggs. These emails show me at a glance what he is accomplishing, learning, and earning. There's even a link to the place in Reading Eggs where I can print his certificates.
Email information
If you have multiple users, be sure to log out each kiddo before letting the next one start. There was one day that one of the biggers worked briefly on his brother's account. Their names are on the student dashboard, but who reads such things before they begin working? sigh...
Merrick loves Reading Eggs so much, it is always the first school he wants to do. It's fun and engaging, they love most of the songs and stories. I had to laugh when he got to a segment I remember from when the older boys had Reading Eggs. The goat was singing and it's pretty repetitive. Aaaaand goatlike. Mal covered his ears (because it's a sound and that's what he does), but he smiled. "I remember that!" Reading Eggs bonus - sometimes there's even a train.
Some of the Reading Eggs lessons
Xavier got a huge kick out of one story that had characters named Xavier and Javier. While I thought that was fun, I'm glad Mal hasn't seen his own name. He gets weird about stuff like that. There are comprehension questions built right into the online game, but parents can also print out the activity sheets with many more activities based on each lesson.
A page from Eggspress
Skills in these sheets vary, just like the games increase in scope as a child moves through the program. The first lesson in the Reading Eggs activity sheets is all about the letter m; writing it, words that begin with the /m/ sound, identifying M written in various fonts, that kind of thing. By the end of Reading Eggs' 12 Maps (120 lessons) students are practicing ay, igh, and oa words, and reading short passages and answering easy questions about it. Each activity sheet begins with a page for the teacher/parent which explains the objectives of the lesson, the CCSS alignment, classroom games (often these can be played/completed by one child with no problem), extra assistance ideas, word families, etc.
The Bonus Tab and Activity Sheets
And now...
The folks at Reading Eggs have introduced new program guides just for homeschoolers. These week by week overviews for grades K-2 use a colorful chart covering 36 weeks of education using Reading Eggs, MathSeeds, and some of the 2,500 books available in the Reading Eggs library to teach Language Arts, Math, Science, and History. While Merrick is not exactly at the same place in math and language arts right now, by the recommendation. I think it will be easy to use these guides to supplement, and possibly direct his science and history lessons for the year, though. The pace of 1-2
Reading Eggs
lessons in a week, looks just about right for what we've been covering without the guides. They were just released last week, so I'm still becoming familiar with them, but they look great and I plan to incorporate them starting this week.
NEW Homeschool Guides for K-2nd grade
The reading games provide tons of fun online learning opportunities. Nearly every one of them is completely do-able at the skill levels the punks possess. There was one game that I had to complete for Merrick because there was no way he could operate the car quickly and accurately enough to move on. I remember having to do that with a different game for the bigger punks a few years ago. I seriously failed these poor kids. It took me multiple tries myself to finish it so he could move on! That was the day I tried to adjust his level, but you can't skip one game, only entire levels.
If you ever have trouble, support (including live chat) is just a click away. You'll also find plenty of sample lessons for each of the four programs.
Support and Samples
I'm even more impressed with Reading Eggs than I was before. The scope of the programs have really grown. The songs, stories, and games combine to make learning fun and engaging. The graphics are high quality. Everything is inviting and colorful. I've found the site to be quite easy to navigate. Best of all, the punks still enjoy it. That certainly makes it easy to motivate them to learn.
Reading Eggs
has generously offered my readers a
4 week FREE trial of the Reading Eggs and MathSeeds
programs to try for yourselves! Offer expires on
November 30, 2017
. I hope you will take the plunge and use this risk free trial.
You can find Reading Eggs on social media.
•
Facebook
•
Twitter
•
Pinterest
•
YouTube